Dan Gill's vision for Dine Delivered ™ & how it all started...
Posted on Oct 23, 2017 by marieclaire
Founder of Dine Delivered ™, Dan Gill shares aspirations for NEW eCommerce website. Describing how there has been a shift in the market for event catering and delivered food; corporate and private clients are now, more than ever, wanting a quick, personalised and digital solution to order event entertaining.
---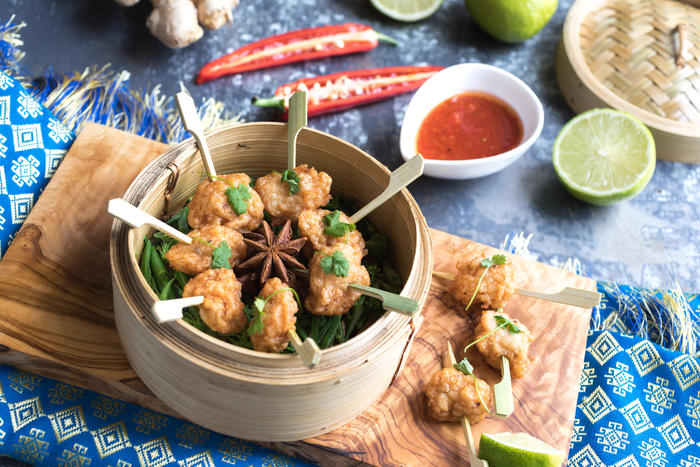 ---
What was it that inspired you to start Dine Delivered ™? When and where did this idea occur to you?
We always celebrate Christmas at home and cater for my Mum & Dad, who ran a Michelin-starred restaurant for 40 years — I find that placing orders for food online is the least stressful way of covering all the requirements. However, it still means developing a menu and then trawling through a list of endless products to find everything I need. You also have to guess whether the items are sufficient for guest numbers and make sure you remember to cover items such as condiments and special diets.
25 years of experience in the event planning business means that I appreciate how choosing a menu for a celebration dinner at home or special event in the office requires a blend of emotional and practical decision making processes to be followed.
We have developed a system which asks our clients a few simple questions about their event, preferred format, chosen style and then presents them with a menu automatically. The system uses our years of experience in menu planning and processes 12,500 variables to provide a personalised menus for every client, meaning that they can plan and order food for their event in under two minutes from coming to our site (or take longer to browse and chat with our team in the process if they prefer!).
Providing top notch food and service has traditionally required a full team, both for the planning stages and then for delivery. Dine Delivered ™ provides the same excellent food, but in a format which allows clients to choose whether they want us to simply deliver excellent event food and then add services such as automatically matched wines and drinks, glassware, linen and cutlery (*and even staff) at their own leisure. This offers top quality matched with ultimate flexibility and is a truly unique system.
Where does the need for Dine Delivered ™ come from?
People seeking food for an event, whether it's a dinner party at home or a launch event at work, have to either choose from a pure delivered product (say from the supermarkets) or a full service approach which includes staff, food and equipment. This is because the supermarkets do not have the teams or infrastructure to provide service and equipment and event caterers do not have products which are capable of being delivered without a chef and staff to finish them on-site.
Dine delivered offers the best of both worlds – if clients want to simply generate a menu online using our system and then take delivery of brilliant food, packaged and prepared in a manner which means it is ready to go out of the box, they can. If they want to add additional services such as staff, glassware, drinks (and even personalised birthday cakes), they can. This means that Dine delivered matches the very best in convenience with our award-winning food and service.
Customer expectations are quickly evolving, they want to be able to order online, from their mobile devices and there is an ever growing demand for convenience, with people leading increasingly busy lives; producing a menu based on favourites, adds yet another benefit to the Dine Delivered ™ product.
When did you meet Richard Allen and why did you decide to work with him on this project?
Aside from the obvious fact that he's an incredibly talented chef! Richard has had wide experience in development work and I first came to know him when he was Exec Chef at Harvey Nichols. Richard was able to support our in-house team (who are already incredibly busy), with some analytical thinking. The Dine Delivered ™ team have succeeded in creating dishes which can be delivered to clients by courier and have a real wow factor.
Who do you see as your core customer?
PA's in the corporate world looking for simple, delicious breakfast, lunch and dinner options for boardroom meetings etc.…these clients will also appreciate the flexible approach, meaning that once they have chosen a menu they can also add glassware, china, cutlery and even staff along with drinks if required. It means they are never at risk of either having 'overspent the budget' or equally at being blamed for choosing a product which has fallen short of the mark – Dine Delivered ™ is perfect in this scenario.
Parents juggling busy work and family lives. Need a simple and convenient solution for catering their child's birthday party.
Wedding clients hosting their celebrations in the village hall, at home or in venues with limited cooking facilities (more of an informal vibe). The menus we have developed means that client can take delivery of fabulous, stylish food, some of which can simply be placed straight on the tables in elegant platters. Our platter of salmon trout with candy beets is one of my favourites in this respect! Need Cutlery, China & glassware for your celebrations? No problem – our system will even work out all of the quantities required for your chosen menu automatically – a few clicks will see it all delivered to your chosen location.
Clients who love entertaining friends at home, but want to spend time with their guests rather than slaving over the cooker. We see our celebration roasts being extremely popular at Christmas, Easter and so on. Equally, our three course meal options with all the trimmings will certainly hit the spot for dinner parties at home or for a weekend away with friends and family.
What event types do you cater for?
Dine Delivered ™ automatically proposes menus for every type of event, but some of the most popular scenarios are:
Wedding – tipis (glamping weddings), village hall, back garden, places with limited cooking facilities, even our beautiful locations such as Bolton Abbey or the Lakeside at Carlton Towers. The Dine Delivered ™ product is also perfect for dinners with family the night before if you are hiring a house or cottage with your family; we even do breakfast packs, so could literally cater for a whole weekend of fun with the family.
Corporate – Picnics in the office, lunch platters,

canapé

launch events, training conferences, informal meetings.
Private Dinner Parties – milestone birthday celebrations at home, Christmas, Easter and even supper clubs.
Children's parties — if

you're

hiring a church hall but

don't

really fancy buttering 100 pieces of bread or even if you

'

re doing a party at home and want some really lovely food for your kid

'

s party, then Dine Delivered ™ is definitely the way to go. Slightly fancier than the standard platter, with lots of delicious options that will appeal to little people.. tried and tested on our own mini Dine Delivered ™ critics.
Dine Delivered ™ core brand values / service offering?
Our core values are the same throughout the business — to offer our clients / customers the very best experience in whatever level of Dine they choose.
We have honoured this project with a huge amount of attention to detail and will work with our chefs, IT developers and delivery partners to ensure we achieve 100% satisfaction ratings in all areas of the Dine Delivered ™ experience.
Where are you pitching Dine Delivered ™ in the market place?
When we started Dine Delivered ™, the key objective was to fill the gap in the market place — for delivered in, high end event food that didn't automatically require the added expense of on-site chefs, event management and staffing costs.
Clients will be pleasantly surprised by how cost effective this product is – taken against a full shopping baskets and considering how efficiently designed our products are, we can deliver a much better experience at a comparable cost to some of your favourite supermarkets. That's the whole point of Dine Delivered ™ – we offer convenient options from start to finish and our customers will soon see why it is an obvious choice.
Where can you order Dine Delivered ™ product?
Anywhere in the UK, which has a DPD service can order our product. The only restriction is the number of orders we can accept for delivery on a given date, so don't hesitate to place your order sooner rather than later!
We offer a number of click and collect locations for clients who prefer to pick-up and offer FREE delivery to Leeds postcodes.
If you have a special event coming up, why not give our new service a
try
.
---