The Christmas party season is fast approaching, so here's the Dine Delivered ™ guide to choosing the best canapés for your Christmas drinks party!
---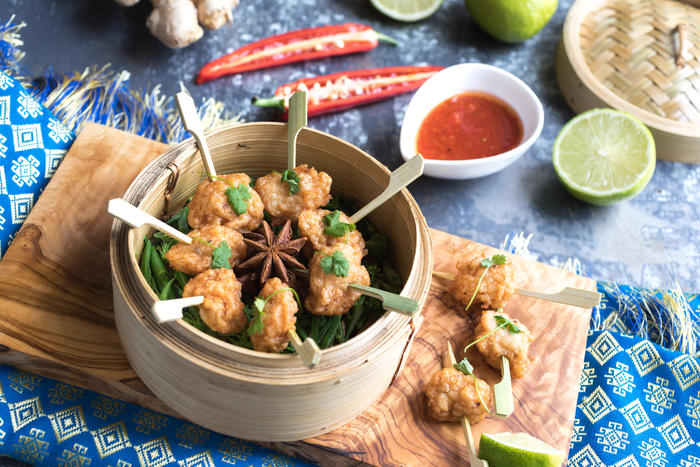 ---
How many should I order?
This has to be the most asked question about canapés! If you are holding a drinks party lasting between 2 and 3 hours, 5 canapés per person would be about right. If the canapés will be followed by a meal, then 3 canapés per person will be enough. You don't want to end up with too many leftovers!
What about special diets?
A good canapé party will have something for everyone. Make sure you choose a good variety of ingredients- more and more people are choosing to follow a plant-based diet so a good vegan or at least vegetarian option is vital. Also make sure you offer canapés which are gluten free, as this is also an increasingly popular option.
How to I choose a good variety?
For many people canapés bring to mind vol-au-vents, but there are so many different options! Try to avoid too many pastry-type canapés, as this will make for a very brown menu indeed! Different ideas might be to include lettuce cups, canapés served on spoons or perhaps skewers, which don't need a pastry holder.
Try also to avoid too much of the same ingredients- all fish, for example- and have a variety of colours and flavours.
What do I serve them on?
Colourful plates or bowls can add interest to your canapé party, but don't be afraid to experiment with boards or other non-traditional dishes. Dine Delivered ™ offer all their canapés on recyclable serving plates, so are ready to go! Make sure you provide napkins for your guests and somewhere for them to put used skewers if you are using them.
Any other tips?
Make sure you offer a mix of canapés- don't bring out all the cheese followed by all the salmon, for example. That way no one is going hungry if they don't like one of your canapés.
Now just relax and enjoy your party!
---